Portrait of a Child: Historical and Scientific Studies of a Roman Egyptian Mummy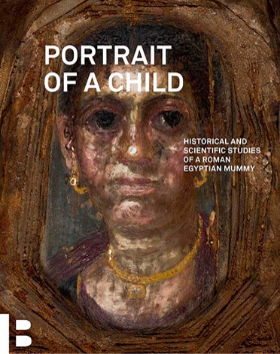 Contributors:
Essi Rönkkö (Editor)
Taco Terpstra (Editor)
Marc Walton (Editor)
Victoria Cooley (Contribution by)
Caroline Cartwright (Contribution by)
Jonathan D. Almer (Contribution by)
Lorelei Corcoran (Contribution by)
---
Publication Date: November 2019
ISBN: 1-7325684-1-3
Publisher: The Block Museum of Art, Northwestern University, Distributed by Northwestern University Press
About the book
Portrait of a Child is an illustrated guide to the fascinating story of the mummy known to archaeologists as "the Hawara Portrait Mummy No. 4."
Discovered in 1910 by British archaeologist Flinders Petrie at the Roman-Egyptian archaeological site of Hawara, the mummified child was buried with a luminous painted portrait which has captivated viewers ever since. This book tells the story of what cutting-edge research has revealed about her life and death.

The centerpiece of a 2018 exhibit at Northwestern University's Block Museum of Art titled "Paint the Eyes Softer: Mummy Portraits from Roman Egypt," the mummy was the focus on intense, multidisciplinary research. University researchers used CT scan technology to investigate the cause of the child's death and identify the method and materials used in mummification. Traveling to the Department of Energy's Argonne National Laboratory, the mummy then became the first ever analyzed using Advanced Photon Source synchrotron technology, where a high-brilliance X-ray beam revealed more details about her bone matter and the materials she was entombed with. Accompanied by a wealth of color images, maps, and diagrams, Portrait of A Child, shares new scientific findings, as well as the conservation, ethical, and museological considerations weighed by the researchers and curators.

Written for the knowledgeable general reader, the book presents recent multidisciplinary research that explores the mummy, the economic and cultural history of Hawara within the Roman Empire, as well as the life of a girl in Egypt at the turn of the second century.
About the Authors
ESSI RÖNKKÖ is an assistant curator at the Block Museum of Art at Northwestern University. She worked for the Hood Museum of Art at Dartmouth College between 2009–2015 before joining the Block in 2016. Her work has focused on academic programming and curatorial projects related to the ancient Mediterranean with research interests that include gender and concepts of masculinity in the early Roman Empire.

TACO TERPSTRA is an assistant professor of classics and history at Northwestern University. Terpstra is a socioeconomic historian of ancient Rome. He is the author of Trading Communities in the Roman World: A Micro-Economic and Institutional Perspective. In 2015–16 he was a Fellow at Northwestern's Alice Kaplan Institute for the Humanities.

MARC WALTON is Research Professor of Materials Science and Engineering at Northwestern University. Walton worked at the Los Angeles County Museum of Art for two years prior to joining the Getty Conservation Institute in 2005, where he was an associate scientist responsible for the scientific study of antiquities at the J. Paul Getty Museum.