What's Inside The Block?

It depends on how you look...
---
The Block is a dynamic, imaginative, and innovative teaching and learning resource for Northwestern and its surrounding communities, featuring a global exhibition program that crosses time periods and cultures and serves as a springboard for thought-provoking discussions relevant to our lives today.
The museum also commissions new work to foster connections between artists and the public through the creative process. Each year, the Block mounts exhibitions; organizes and hosts lectures, symposia, and workshops involving artists, scholars, curators, and critics; and screens classic and contemporary films at its in-house cinema. The museum reaches national and international audiences through its traveling exhibitions, publications, and digital programs. Its growing permanent collection of approximately 6,000 works focuses primarily on prints, photography, and drawings. 
---

Mission Statement
The Mary and Leigh Block Museum of Art enriches teaching and learning on the campuses of Northwestern University and in the communities of their surrounding regions by: 

Presenting art across time, cultures, and media;
Convening interdisciplinary discussions in which art is a springboard for exploring issues and ideas; 
Collecting art that supports the Northwestern University curriculum.

Vision Statement
To be a dynamic, imaginative, and innovative teaching and learning resource at Northwestern University through an artistic program that is a springboard for thought-provoking discussions relevant to the curriculum and to our lives today.
To inspire and develop a new generation of artists, scholars, and arts professionals by providing experiential learning opportunities bridging the classroom and the world beyond the campus.
To serve as a crossroads between campus and community, by creating an environment where all visitors feel welcome to participate.
About our Work
The collections, exhibitions, and programs of The Block Museum of Art present a broad view of human experience and global perspectives. The Museum's activities support the strategic goals, priorities, and values of Northwestern University. We uphold the University's strong commitment to diversity, equity, and inclusion. We also endeavor to work towards constructive engagement within the context of freedom of academic inquiry and expression through our presentation of art, artists, and visual culture.
AAM Accreditation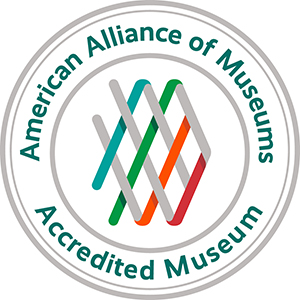 The Block Museum is accredited by the American Association of Museums (AAM). Accreditation recognizes high standards and ensures that museums uphold their public trust. Developed and sustained by museum professionals for more than 35 years, AAM's museum accreditation program is the field's primary vehicle for quality assurance, self-regulation, and public accountability.
Diversity, Equity, and Inclusion
The Block Museum of Art upholds Northwestern University's institutional mission"to realize an ideal Northwestern University where community members are challenged to engage differences as strengths in an environment that ensures equality of access, opportunity, representation and participation."
Learn more about Northwestern University's Leadership Commitment to Institutional Diversity and Inclusion
https://www.northwestern.edu/diversity/about/diversity-leadership/