About The Block Collection
The Block Museum houses a collection of over 6,000 artworks, with a foundation in works on paper, including prints, drawings, and photographs. In recent years The Block has expanded its collection with acquisitions of contemporary art across media by an international array of artists. Recent gifts and purchases have included videos, sculpture, drawings, photographs, and installations by artists such as Paul Chan, Omar Victor Diop, Felix Gonzalez Torres, Catherine Opie, and Carrie Mae Weems. Building upon these strengths the Block continues to seek gifts of art that connect to Northwestern's broad curriculum and deepen our representation of modern and contemporary culture globally and from diverse perspectives.
The core of our current collecting mission includes a commitment to living artists; a connection between the past and the present; and a cross-cultural, global perspective.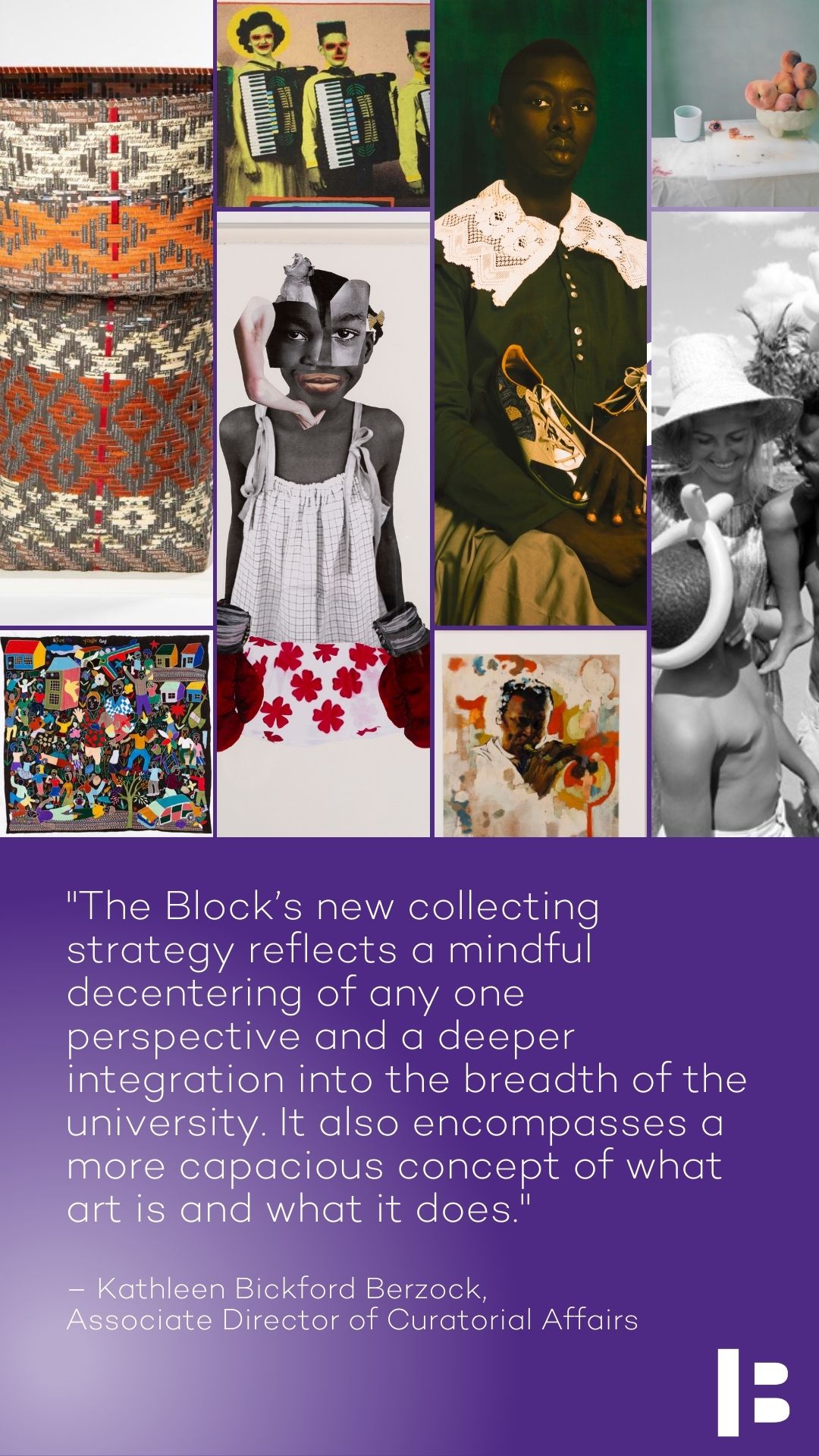 The How and The Why: The Block's Collection (Kathleen Bickford Berzock)
From Gallery to Museum: The Block's Collecting History (Corinne Granof)
Essays originally published in "Who Says, Who Shows, What Counts: Thinking About History with The Block's Collection" (Northwestern University Press, 2021)
Highlights of the Collection
 A small selection of European prints dating from the 16th century through the 18th century.
Chicago-based printmakers of the 1930s and '40s
American computer-generated artworks from the 1950s to the present day
Marion Mahony Griffin and Walter Burley Griffin architectural drawings and blueprints
Prints and drawings by 19th and 20th century American and European sculptors
Documentary photography highlighting the Midwest from the 1930s through the 1970s, including Farm Security Agency (FSA) photographers
American prints from the 1970s through the 1990s
South African "township" prints from the late 1980s and early 1990s.
Visit the Collection
The Block Museum's collection provides an innovative and active teaching and learning resource for the University and its surrounding communities.  Educators in fields as varied as performance studies, journalism, and material science visit our collection and access our online database to teach visual literacy, develop critical thinking skills, and draw thematic connections. Our Eloise W. Martin Study Center is a special classroom inside the Block that offers an intimate setting for the study and use of artwork in the museum's collection
The Block Collection Spotlight Series
 The Block Collection Spotlight series invites a closer look at objects in the Block Museum permanent collection from students, staff, faculty, and museum audiences.  The monthly blog allows for new scholarship and new perspectives on collection work.
Using the Online Collection Database
Explore The Block's collection online through our digital database, including browsing by artist, theme, date and medium.  Select works for study or further research through our dynamic My Collections feature. Below some instructions to get you started 
Getting Started
General Search
Advanced Search
My Collections
Collection News