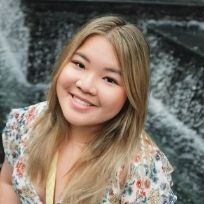 Fiona Asokacitta
Major in History and Art History, minor in Anthropology (2021)
From Jakarta, Indonesia and living in Chicago, IL
What brought you to The Block?
I've always loved public speaking and joining museum tours, so when I saw there was an opportunity to be a student docent at the Block, I was thrilled!
What should we know about you?
I love arts and crafts—anything from making miniature houses, to paint-by-numbers, to taxidermy. I also love to travel, cook, and collect creepy antique things.
What is a favorite museum or exhibit you've visited, outside of The Block, and why?
My favorite exhibit that I visited recently (well, 2019), was Cy Twombly's Lepanto cycle at the Museum Brandhorst in Munich, Germany. The cavernous, white-walled space of the gallery, shaped like a semi-circle, displayed the twelve massive canvases. Lepanto, based on a Mediterranean battle in the 16
th
century, is a narrative sequence of paintings. The experience of seeing the story unfold visually was stunning. Standing in the middle of the room, I was engulfed in colors and dramatic brushstrokes. Not to be dramatic, but I nearly cried from how beautiful it was.